Wagon
COMING SOON: The Acorn Wagon's new top-secret self-serve Acorn Gravy Dispenser has been Beta Tested, and will be released for public use when the new 2018 design improvements have been implemented. Stay tuned…
Acorn Wagon Menu:
*All offerings are Vegan and Certified Organic or Locally Wild-Harvested, with the following exceptions:. All ingredients are Gluten-Free, except the wheat buns. Gluten-Free buns available, upon request.  All offerings are vegan, except the cheeseburger option (contains bio-regional organic cow dairy cheese).  We use vegan mayo.
~~~~~~~~~~~~~~~~~~~~~~~~~~~~~~
Acorn Mini-Burger
Nutrient-rich slider-sized mini-burger acorn veggie patty on a homemade organic bun:  Locally-harvested and processed 2017 acorn meal, blended with vegetables, herbs, and spices, served on an organic locally-baked whole wheat bun (gluten-free available) with home-made Acorn Love Sauce, optional organic cheddar cheese, veggies (as seasonally available), and plenty of condiments.
~~~~~~~~~~~~~~~~~~~~~~~~~~~~~~
Acorn Gravy over French Fries
Organic potatoes crispy double-fried in organic coconut oil, with a touch of Himalayan salt, white pepper, and a sprinkle of local organic dried parsley flakes.  Special locally wild-crafted Acorn Herb Gravy on top, or on the side.

 ~~~~~~~~~~~~~~~~~~~~~~~~~~~~~~
Acorn Gravy on Mashed Potatoes
Organic garlic mashed potatoes with special local Acorn Herb Gravy with a sprig of fresh parsley and a light sprinkling of acorn crumble garnish.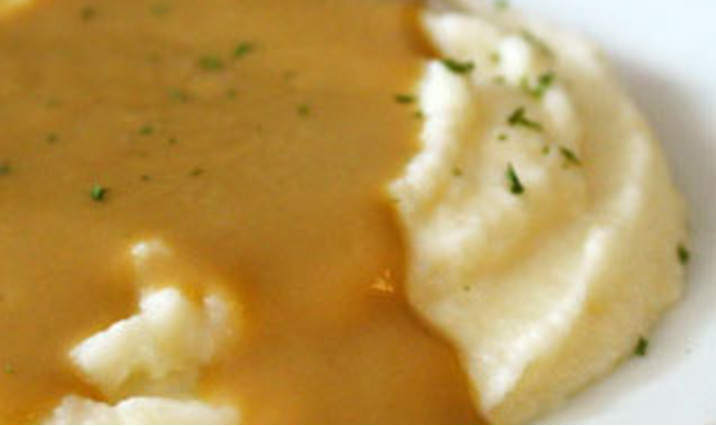 ~~~~~~~~~~~~~~~~~~~~~~~~~~~~~~
Acorn Ball with Acorn Gravy, on Mashed Potato Hill
(no picture available yet)
Acorn nut meatball (deep fried, like Falafel) on top of organic garlic mashed potatoes, covered in special local Acorn Herb Gravy, with a sprig of parsley and a light sprinkling of local acorn crumble garnish.
~~~~~~~~~~~~~~~~~~~~~~~~~~~~~~
Extra Delicious Options:
A Small Dill Pickle
Little Extra Gravy cup
A Gluten-Free Bun
One Extra Acorn Ball
Some Dried Parsley Flakes
A Sprig of Fresh Parsley
Grinding: Fresh-ground white pepper
~~~~~~~~~~~~~~~~~~~~~~~~~`
FYI, Our Experimental & Versatile Acorn Burger Recipe:
-Equal parts ground acorn meal and veggie broth
-Add some flavorful vegan additions, such as: sautéd shiitakes and green onions, some salt, a few grinds of white pepper, onion powder, garlic powder, and a shot of Tabasco hot sauce…
-Fry on grill with Organic Coconut Oil
-Add cheese or sauce on grill, as desired
-Enjoy HOT & with lots of CONDIMENTS!